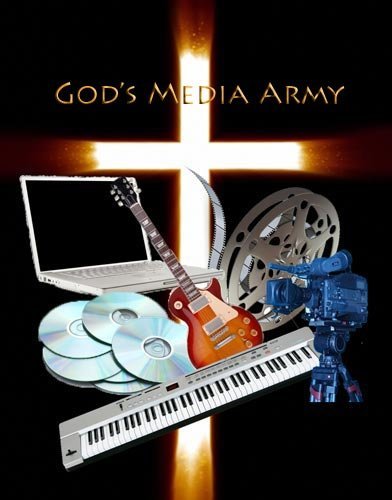 God's Media Army: Global Changers
by Jill Austin
Because I am an artist and I was born and raised in Hollywood, clean and decent movies have been a way for me to relax and have fun. There are some great films being released! I love movies like: The Passion(受難記), Braveheart(梅爾吉勃遜:英雄本色), The Guardian(神鬼戰士), The Ultimate Gift(台灣未上演), Chariots of Fire(), The Lion, Witch and Wardrobe(納尼亞傳奇:獅王、女巫和衣櫥), One Night with the King(改編自湯米田尼所著同名小說,台灣未上演), The Unfinished Life(美麗待續) and many more. I have a real passion for the movie industry, but the contents of many movies today is very evil, perverted, violent and subtly laced with the occult.
But the other side of the coin is that we don't want to just throw everything in the electronic age out the window! We need to wake up to the power of communications and the media! They are going to be powerfully used by the Lord to harvest whole nations. Dreamer God is on the move!
Being an artist myself, I love the theatre, music, movies, and the dance! It makes me fully alive and in touch with my God, who is very colorful and creative! I have such a heart for the arts!
Part of the war is because these are global trendsetters who will significantly affect all of society. We need to be the forerunners who move with excellence, are on the cutting edge, and we produce the best of the best in all of these fields. This is one of the most strategic battle fronts we face because it affects the minds, hearts, and passions of the masses.
The church should be actively empowering and cheering on the "Bravehearts" who are gifted in these arenas instead of judging and dismissing every one of them as "evil", which is ignorance. Because we've been religious and critical, we've lost control of one of the most influential avenues of evangelism of the 21st century! We really need to repent, take back the territory we've lost, and infiltrate all of these ranks for Jesus! Let's redeem the arts together!
If Jesus were literally walking the earth today, I know He would use the media because it has global impact! He was a master story teller and the Bible is full of parables that are prophetic and carry hidden truths. They are like time capsules of revelation that are released over the centuries. Every movie that is released in has cultural influence - for the good or for the bad - that impacts the world and the generations to come. God needs to capture these influential avenues of communication again!

We are up against evil powers and principalities as we contend to take back what's been stolen. This is heavy spiritual warfare and we need to move with the power of the Holy Spirit, asking for strategies, revelation, keen discernment and wisdom for these battles.
We must use "the sword of the Lord"!
書摘選自:Dancing With Destiny: Awaken your Heart to Dream, to Love, to War